Molecular Neurobiology
ABOUT
Cross-disciplinary clinical-animal model-basic interactive research guide our translational approach on neurodegenerative and vascular brain disorders.
RESEARCH
The Molecular Neurobiology group main focus is translational medicine targeting highly prevalent disorders: Proteopathies (TTR amyloidosis; Alzheimer`s Disease) and cerebrovascular diseases. Our efforts ultimately aim at inovative biomarkers and treatment approaches.
We target transthyretin (TTR)-related diseases, using our unique pre-clinical models for TTR amyloidosis and well-characterized clinical cohorts from national and international collaborating centers; ongoing industry collaborations focus on new tools in the treatment of TTR diseases, like gene silencing, amyloid formation inhibition and its resolution. Alternative approaches through drug re-purposing focusing on fibril disruptors and anti-inflammatories are also underway. Some of these pre-clinical studies generated international phase III clinical trials (Doxy-TUDCA for TTR Amyloidoses, from Pavia University, Italy) and contributed to ongoing treatment (Alnylan siRNA for the treatment of FAP). In addition, our work on conditions and modulators of TTR aggregation and fibril formation using in vitro, cell culture studies and mice expressing hTTR variants hold the ultimate purpose of uncovering new biomarkers or drug targets for TTR amyloidoses.
We focus on the role of TTR in Alzheimer Disease and in Stroke as these are the most disabling diseases in Portugal. In AD we unraveled the mechanisms by which TTR participates in Abeta peptide efflux, promoting its transport in brain-to-blood direction through the LRP1 receptor. In Stroke we depicted the role of TTR in brain ischemia and the molecular mechanisms by which TTR binds to the transducing receptor Megalin, acting in cell survival and dendrite preservation.
To bring our findings closer to the clinic on cerebrovascular diseases, parallel animal models and clinical cohorts studies (at Centro Hospitalar Universitário do Porto) on acute stroke and vascular cognitive impairment are being used for the discovery of new biomarkers (genomic and proteomic) for diagnosis and management of these brain disorders. Ultimately, a multi-marker panel will be designed for more accurate diagnosis allowing better patient stratification for treatment.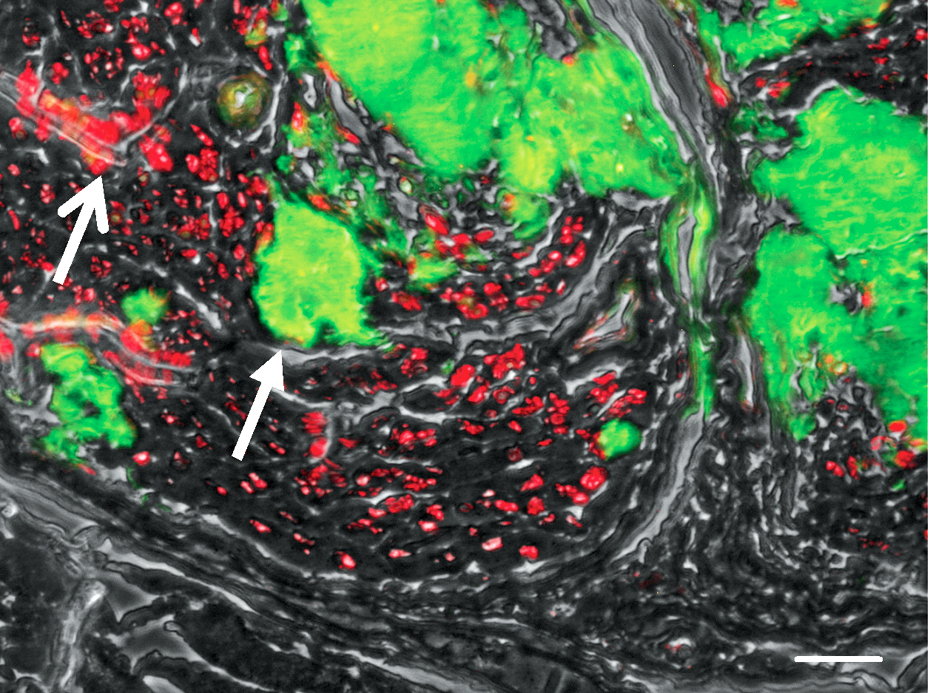 Selected Publications
Differential expression of Cathepsin E in transthyretin amyloidosis: From neuropathology to the immune system.
Journal of Neuroinflammation14(1):, 2017. [Journal: Article] [CI: 3] [IF: 5,2]
DOI:
10.1186/s12974-017-0891-9
SCOPUS:
85020206626
Overexpression of Protocadherin-10 in Transthyretin-Related Familial Amyloidotic Polyneuropathy.
American Journal of Pathology186(7):1913-1924, 2016. [Journal: Article] [CI: 3] [IF: 4,1]
DOI:
10.1016/j.ajpath.2016.02.020
SCOPUS:
84997207695
Tissue remodeling after interference RNA mediated knockdown of transthyretin in a familial amyloidotic polyneuropathy mouse model.
Neurobiology of Aging47:91-101, 2016. [Journal: Article] [CI: 3] [IF: 5,1]
DOI:
10.1016/j.neurobiolaging.2016.07.020
SCOPUS:
84983775600
Transthyretin provides trophic support via megalin by promoting neurite outgrowth and neuroprotection in cerebral ischemia.
Cell Death and Differentiation23(11):1749-1764, 2016. [Journal: Article] [CI: 17] [IF: 8,3]
DOI:
10.1038/cdd.2016.64
SCOPUS:
84982105742
Curcumin: A multi-Target disease-modifying agent for late-stage transthyretin amyloidosis.
Scientific Reports6:, 2016. [Journal: Article] [CI: 18] [IF: 4,3]
DOI:
10.1038/srep26623
SCOPUS:
84969921377
Transthyretin Induces Insulin-like Growth Factor I Nuclear Translocation Regulating Its Levels in the Hippocampus.
Molecular Neurobiology51(3):1468-1479, 2015. [Journal: Article] [CI: 8] [IF: 5,4]
DOI:
10.1007/s12035-014-8824-4
SCOPUS:
84939882016
The inflammatory response to sciatic nerve injury in a familial amyloidotic polyneuropathy mouse model.
Experimental Neurology257:76-87, 2014. [Journal: Article] [CI: 12] [IF: 4,7]
DOI:
10.1016/j.expneurol.2014.04.030
SCOPUS:
84900864199
Fibroblasts endocytose and degrade transthyretin aggregates in transthyretin-related amyloidosis.
Laboratory Investigation93(8):911-920, 2013. [Journal: Article] [CI: 10] [IF: 3,8]
DOI:
10.1038/labinvest.2013.83
SCOPUS:
84881050634
Dietary curcumin counteracts extracellular transthyretin deposition: Insights on the mechanism of amyloid inhibition.
Biochimica et Biophysica Acta - Molecular Basis of Disease1832(1):39-45, 2013. [Journal: Article] [CI: 30] [IF: 5,1]
DOI:
10.1016/j.bbadis.2012.10.007
SCOPUS:
84868592337
The heat shock response modulates transthyretin deposition in the peripheral and autonomic nervous systems.
Neurobiology of Aging31(2):280-289, 2010. [Journal: Article] [CI: 42] [IF: 6,6]
DOI:
10.1016/j.neurobiolaging.2008.04.001
SCOPUS:
71349088766