i3S hosts new SciArt exhibit in January
Between January 12th and February 1st, i3S displays the exhibition When Microbes Dream, conceived by Canadian artist Jennifer Willet and produced in partnership with IOTA Institute, INCUBATOR Art Lab, and i3S.
When Microbes Dream introduces audiences to allegorical visions of biotechnology as a technology of abundance, rooted in interspecies collaboration and bespoke ecologies. With this exhibition, the artist reimagines laboratory aesthetics as bountiful, feminine, and gaudy in direct contradiction to scientific norms. Willet presents several works including live specimens in conjunction with performative sculpture, large-scale installations, and a series of digital prints.
Each artwork presents a complex vision of organisms large and small (mammals, microbes, plants, and insects) working in collaboration to present biotech processes to human audiences. This work de-prioritizes the human scientist as the dominant organism working within a robust laboratory ecology. Rather, presents the daydreams of non-human organisms living, reproducing, performing and dying within laboratory settings.
When Microbes Dream presents a feminist science-fiction where biotechnology manifests interspecies collaboration, reproduction, theatre and storytelling as a means to re-imagine our shared biotech future.
When Microbes Dream premiered at Kapelica Gallery (Ljubljana, Slovenia) in October 2021, toured to Ectopia (Lisboa) in September 2022, and continues on its European tour to i3S in January 2023.
About Jennifer Willet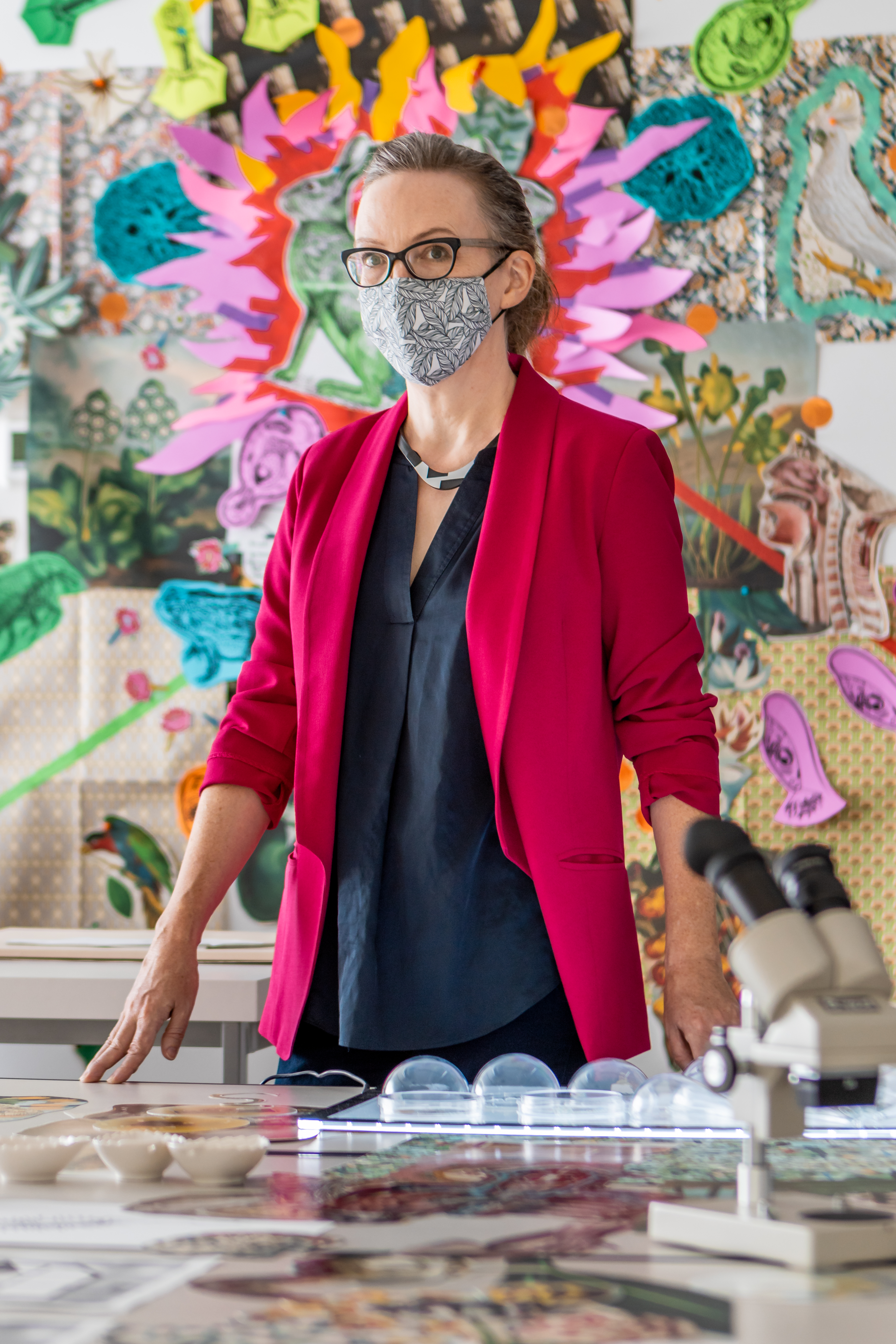 Willet is an internationally recognized artist in the emerging field of bio art. Her research resides at the intersection of art and science, and explores notions of representation, the body, ecologies, and interspecies interrelations in the biotechnological field. She engages in performance, installation, photography and sculpture based artistic practices, community arts and social practice, and philosophy of science, media studies, science and technology studies, combined with protocols and life forms from the biological sciences.