ABOUT
Biocomposites group exists since 2006. Presently (2020) it includes 7 PhD's, 3 PhD students, and undergraduate students.
The main objectives of our research group are tissue regeneration and strategies to fight bacterial infections and we have increasingly focused on the use of biomaterials and devices for cancer research.
Several biomaterials to promote bone and skin regeneration have been developed, often in the presence of immunomodulators, and using in vitro characterization of different cell types (osteoblasts, fibroblasts, osteoclasts, MSCs, endothelial cells, cancer cells). As an alternative to antibiotic approaches, we have been studying biomaterials loaded with antimicrobial agents (metal oxides and bacteriophages) in an effort to reduce antibiotic resistance. We use several in vivo models adjusted to each particular study.
We also have a growing interest in associating biomaterials and devices to cancer theranostics, to localize and adhere to cancer cells, apply hyperthermic treatment and/or locally release chemotherapeutic agents, and apply microfluidic-assisted strategies to improve the current approaches for liquid biopsies.
We keep close collaborations with groups in Portugal, both academic and industrial, and also with groups from Spain, France, Brazil, Colombia, USA, Holland, Italy, Germany, and we are constantly seeking collaborations with other research groups and with industry. We mostly focus on approaches, especially medical device prototypes, that might have the potential to reach the market and have an impact on helping patients to improve their quality of life, consequently we try to have strong cooperation with industrial partners and with clinicians.
RESEARCH
The two most relevant areas of action in the research of our group are focused respectively:
i) in developing novel strategies based on composite scaffolds for Bone regeneration and to treat bone infection, and
ii) on the other hand we have increasingly dedicated our effort to developing materials and devices to be applied in the diagnosis and treatment of several types of cancer.
Among our most relevant results, there is an innovative method to produce nanophased hydroxyapatite (HA) and other calcium phosphates, that was used to establish a production line for hydroxyapatite in industry, that is now in the market, with increasing success.
We recently developed a prototype that is undergoing the regulatory pathway to enter the market, based on a collagen/ nanohydroxyapatite composite scaffold/Sponge for bone tissue regeneration to be used as a co-adjuvant in orthopedic prosthetic surgeries.
A patented nanohydroxyapatite-based collagen porous granular scaffold was also developed, as a localized antibiotic releasing system to treat bone infections and to subsequently regenerate bone, currently at a translational stage for future clinical application. We tailored drug-releasing kinetics to eradicate the infection, but also mechanical properties, bioactivity and cell response to adjust to different requirements for osteoconductivity and bone tissue regeneration.
We have associated ZnO and MgO to nanoHA reducing bacterial adhesion and biofilm formation without cytotoxicity while presenting long term shelf-life.
Surface modification methods to produce micropatterned Zirconia and Silica surfaces are capable of modulating cell attachment and proliferation and induce stem cell differentiation through topographical stimuli aiming at being applied in surface modification of fully ceramic dental implants as a means to improve their surface bioactivity.
We have also successfully developed silk fibroin-based composites for bone and skin regeneration.
We established alternative approaches based on encapsulated bacteriophages into composites of nanoHA and alginate to fight bacterial infections and promote bone regeneration.
We are also interested in applying these antibacterial agents into aerogels produced by supercritical fluids technologies.
We have successfully functionalized collagen/nanoHA 3D constructs using peptides involved in bone metastized prostate cancer to use as a model to study this event. We study SPARC and its peptides influence on bone metastasis of prostate cancer.
Recently we started developing magneto-electric nanometric bioceramic conjugates with smart polymeric systems for bioimaging associated with cancer diagnostics and local release of chemotherapeutic agents.
We are developing microfluidic devices to isolate and characterize circulating biomarkers present in the blood of lung cancer patients, in an effort to improve research on liquid biopsies. We are also interested in microfluidic-based strategies to detect early stages of peri-implantitis.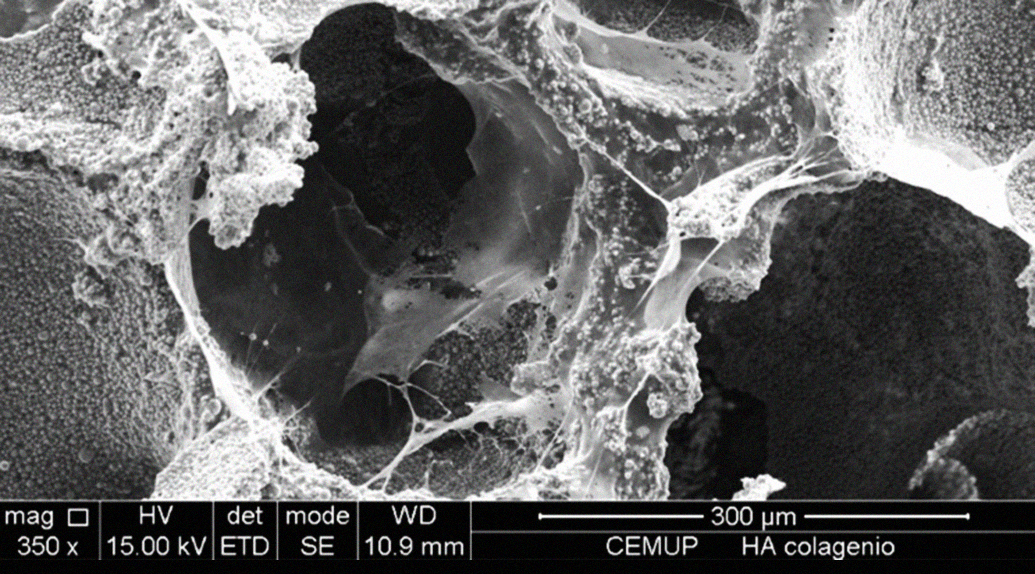 Ongoing Projects
Angiogenesis in tissue engineering: from computational approach to clinical application
Reference: PTDC/EME-APL/3058/2021
Proponent: INEGI
Sponsor: FCT - Fundação para a Ciência e a Tecnologia
From 01-JAN-22 to 31-DEC-24
Magnetic Nanoparticles For Cancer Therapy: Collection And Elimination of Circulating Tumor Cells
Reference: UTAP-EXPL/NPN/0059/2021
Proponent: Instituto de Investigação e Inovação em Saúde - Universidade do Porto
Sponsor: FCT - Fundação para a Ciência e a Tecnologia
From 01-MAR-22 to 28-MAY-23