Communicating the 3Rs | 1st edition
27, 29, and 30 November 2023 | i3S, Porto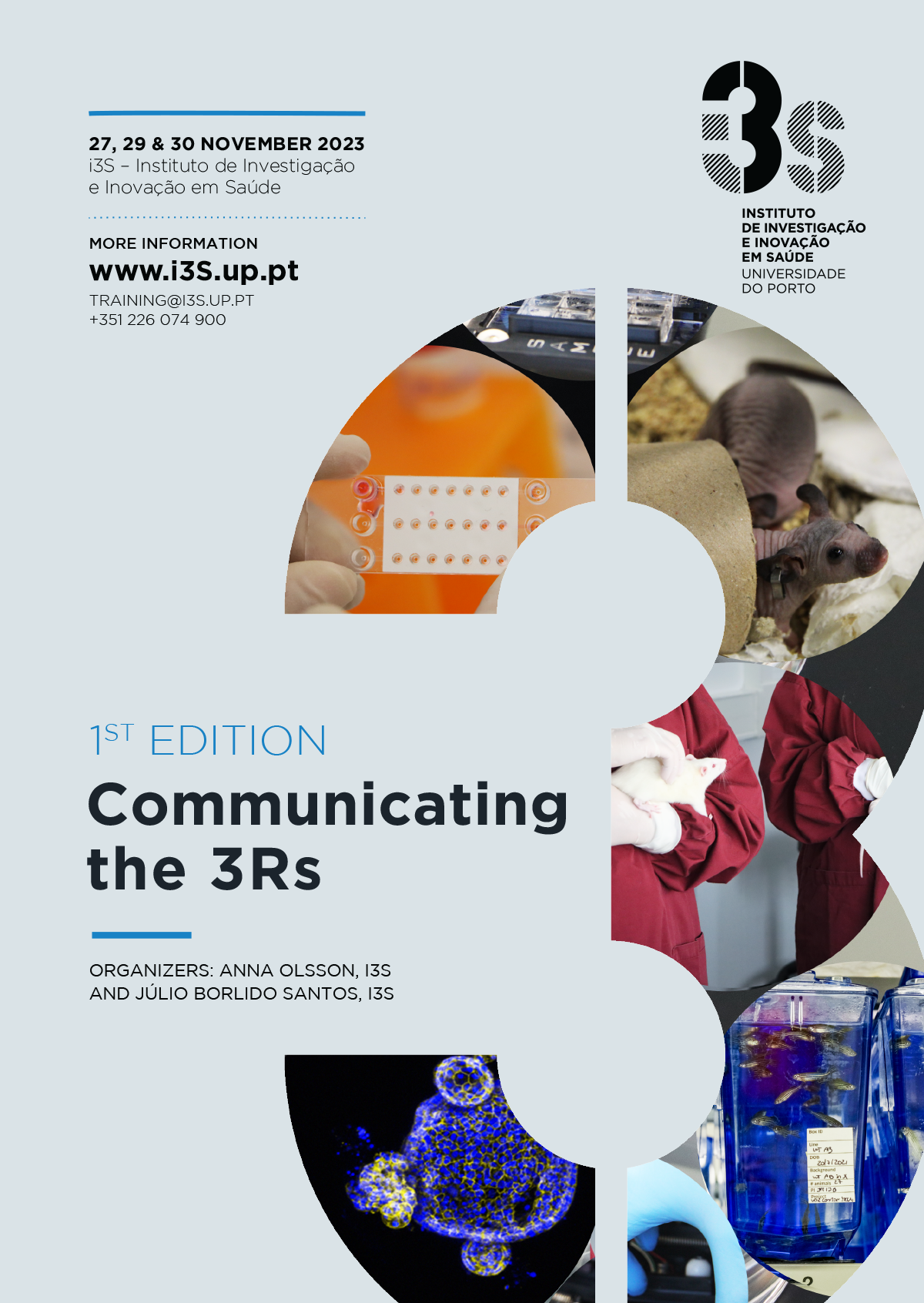 This is a science communication workshop, specifically targeting young researchers whose work has relevance to the 3Rs of animal experimentation - Replacement, Reduction, and Refinement. In this workshop, participants will learn how to communicate research to different publics and in different contexts with a focus on bringing out the 3Rs aspects. There will be a combination of lectures and "hands-on" communication exercises. Participants will be asked to bring their own material and will be guided in creating communication output that can be disseminated through the 3R Knowledge Center.
Target audience: Ph.D. students, research fellows, and postdocs.
Course duration: 12 hours
Teaching Language: English
Requirements: Laptop. Each participant should bring a scientific document (paper, abstract, conference presentation, etc), as a starting point for the workshop assignments. This should be something that is relevant for their own research (may but does not have to be their own work) and for the 3Rs.
Certificate: A certificate of attendance will be assigned to participants that do not miss more than one session.
Course Coordination: Anna Olsson, i3S; Júlio Borlido Santos, i3S
Program
The program will cover the following topics:
- 3Rs as a selling point when communicating
- how to select a trigger for a story
- how to build information content / narrative
- how to adapt the content for different media

Speakers
Anna Olsson, i3S
Júlio Borlido Santos, i3S
Registration
The registration fee includes coffee breaks and course material.
Limited number of participants: 20
Pre-registration deadline: 4th October 2023
i3S members – 25 €
P.CCC Raquel Seruca members – 25€
External members – 50€
Please note that your pre-registration does not confirm that you have been selected for the course.
Payment will be requested only after confirmation of acceptance. Details for payment will be sent in the confirmation registration e-mail.
Course selection criteria: first come first served.
Cancelation policy
In case of cancelation, the registration fee will not be refunded.
The organizer reserves the right to cancel the course in case of an insufficient number of participants, organizational reasons, or other unforeseeable events that render the execution of the course impossible. The organizer shall immediately inform the pre-registered participants of such changes.
---
More Information:
Advanced Training Unit | E-mail: training@i3s.up.pt | Tel: +351 226 074 900