Advanced Training Course in Molecular Bioengineering
Supramolecular Peptide Hydrogels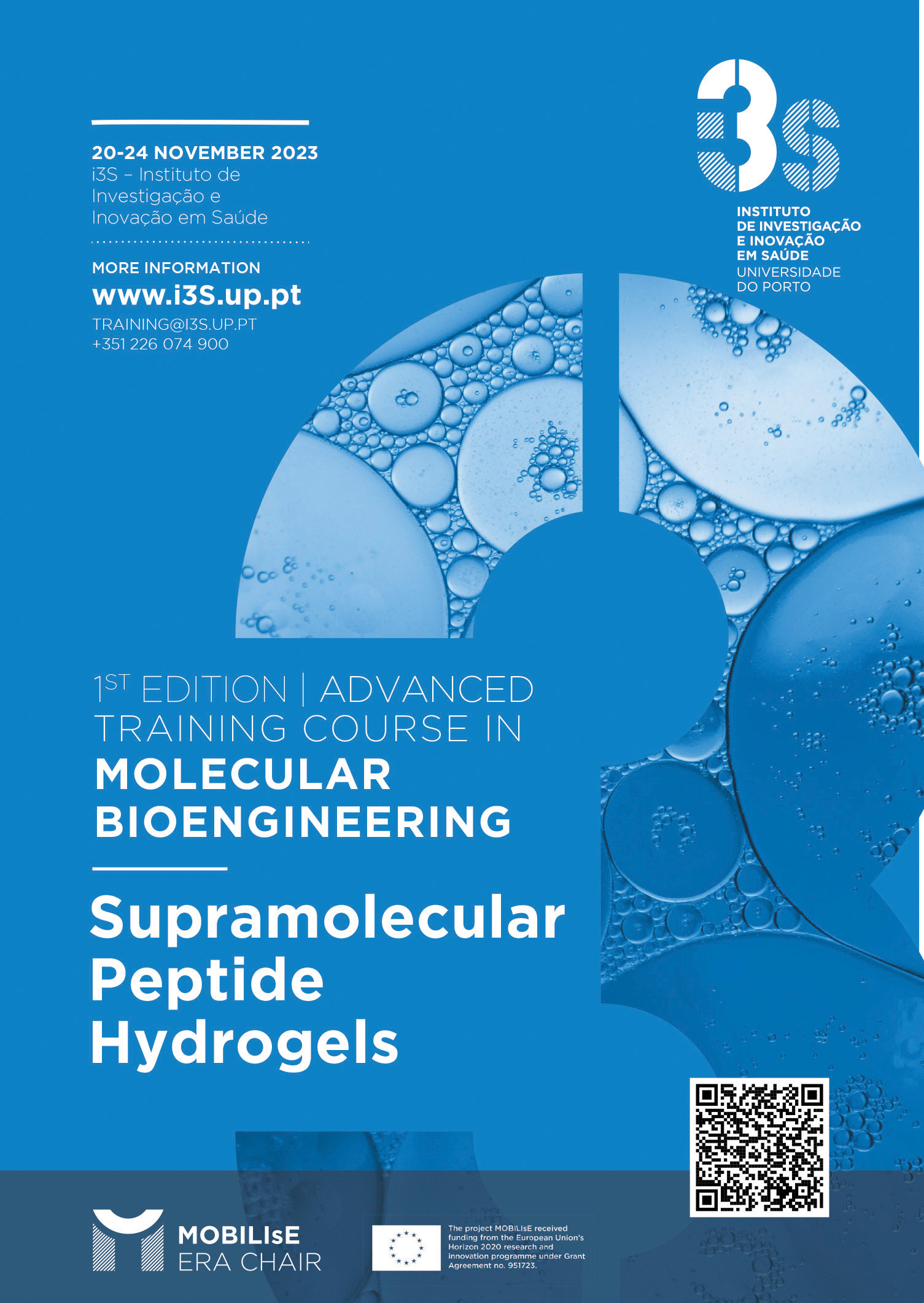 20 - 24 November 2023 | i3S
Molecular Bioengineering is a fast-growing field that explores the most recent advances in chemical, biological and engineering sciences to find advanced molecular-level solutions to complex problems in medicine. The Advanced Training Course in Molecular Bioengineering is designed to provide a training platform to educate the next generation of leaders in Molecular Bioengineering. It will be running on a yearly basis, with each edition focussing on a different topic. The first edition will be devoted to Supramolecular Peptide Hydrogels.
Hydrogels are an appealing class of materials with wide-ranging technical applications, from food to separation processes, from environmental to biomedical applications.
The intrinsic properties of peptides, such as biocompatibility and biodegradability, together with their antimicrobial and therapeutic potential, have attracted large interest in biological applications. Making gels from peptides through supramolecular self-assembly is, therefore, an appealing method for recreating the 3D environment of biological tissues (3D models of diseases, scaffolds for cell culture and tissue growth) and for the controlled/sustained local delivery of drugs. Supramolecular gels are held through reversible and dynamic bonds and their physical/mechanical properties can be tuned to carefully match the tissue of interest.
Target audience:
The course is designed for those interested in supramolecular peptide gels, their advanced characterization and biomedical applications. It can be attended by:
- Postgraduate students: master and PhD students enrolled in Biomedical Engineering or Bioengineering master and doctoral programs, or related areas.
- Researchers working with hydrogels for different biomedical applications (cell culture, drug delivery, biosensing)
- Industrial professionals developing hydrogels for biomedical applications.
Course duration:
Complete course: Monday – Wednesday and Friday (whole day); Thursday morning (26 hours)
Theory: Monday – Thursday mornings (8 hours)