Cell Growth and Differentiation
ABOUT
Our group studies the regulation of cellular properties by transcriptional and signaling networks during organogenesis. The complex coordination of these processes makes mandatory the use of in vivo contexts for the characterization of key genes and genetic networks. For that aim, we use two genetically tractable model organisms: the fruit fly and zebrafish.
RESEARCH
Line 1: Functional genomics approaches to study cell growth and differentiation in Drosophila
RESEARCH TEAM: Paulo Pereira, Lígia Tavares, Cláudia Leite, Nádia Eusébio, Marta Pinho, Rita Matos, Joanna Saab.
Myc cooperates with the TGFb signaling pathways to regulate tissue growth, patterning and differentiation. At the cellular and molecular level we are looking at novel mechanisms mediating the tissue-specific control of cell growth and differentiation by Myc and TGFb pathways. In parallel, we are exploring in vivo tissue-targeted screens to identify genes that interact with these pathways (Norte-01-0145-FEDER-000029). Subsequent functional analyses of validated targets will focus on genes potentially relevant for the generation of models for human disease. In particular, we explore the Drosophila eye as a model to gain a better understanding of the control of photoreceptor neurons and retinal glia development and crosstalk (Norte-01-0145-FEDER-000008).
Line 2: Genetics and morphogenesis during development and cancer.
RESEARCH TEAM: Renata Freitas (PI), Carla Beviano, Ana Paço, Madalena Real, Benedita Portugal.
Hox genes encode transcription factors that are crucial during embryonic development having inputs on tissue growth, patterning and differentiation. Hox genes mutations are frequently associated to human malformations and altered Hox expression patterns have been documented during tumor progression. The main focus of our research is to unravel the mechanisms activated by the Hox transcription factors during embryonic development and cancer and how they are regulated at the transcriptional level. Currently we are characterizing the mechanisms directly regulated by Hox proteins in zebrafish, to better understand how their expression levels affect limb morphogenesis. In parallel we are also characterizing the mechanisms triggered by Hox de-regulation in epithelial derived carcinomas using zebrafish as preferential vertebrate model to perform in vivo assays (NORTE-01-0145-FEDER-000029).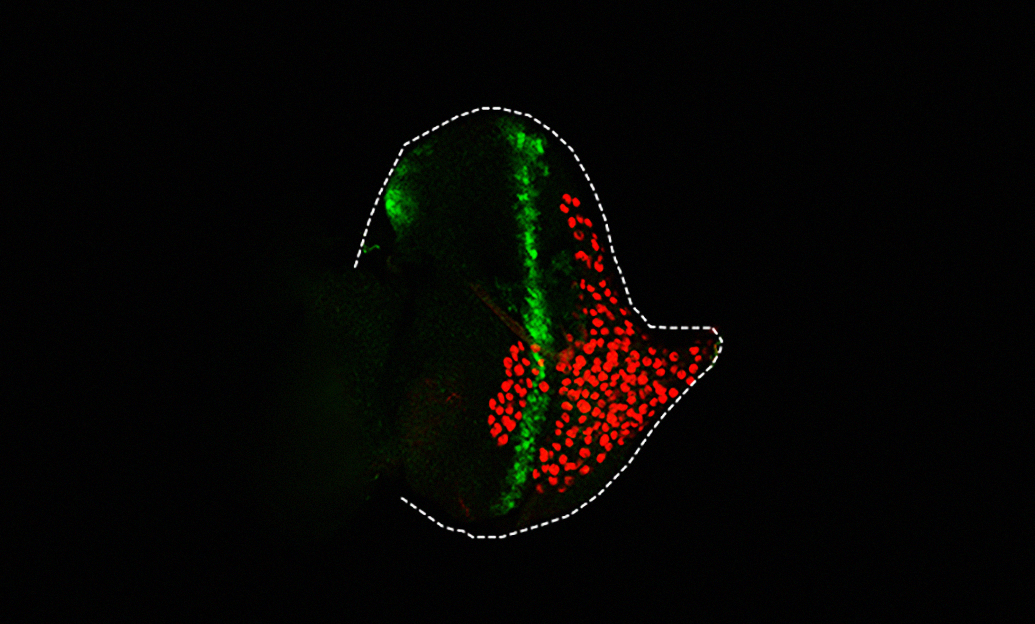 Selected Publications
CtBP represses Dpp-dependent Mad activation during Drosophila eye development.
Developmental Biology442(1):188-198, 2018. [Journal: Article] [IF: 3,3 (*)]
DOI:
10.1016/j.ydbio.2018.07.018
SCOPUS:
85050401082
dMyc is required in retinal progenitors to prevent JNK-mediated retinal glial activation.
PLoS Genetics13(3):, 2017. [Journal: Article] [CI: 2] [IF: 5,5]
DOI:
10.1371/journal.pgen.1006647
SCOPUS:
85016620416
Nuclear receptors connect progenitor transcription factors to cell cycle control.
Scientific Reports7(1):, 2017. [Journal: Article] [IF: 4,1]
DOI:
10.1038/s41598-017-04936-7
SCOPUS:
85021927654
TGFß/Activin signalling is required for ribosome biogenesis and cell growth in Drosophila salivary glands.
Open Biology7(1):, 2017. [Journal: Article] [CI: 3] [IF: 3,3]
DOI:
10.1098/rsob.160258
SCOPUS:
85012931855
Drosophila PS2 and PS3 integrins play distinct roles in retinal photoreceptors-glia interactions.
GLIA63(7):1155-1165, 2015. [Journal: Article] [CI: 6] [IF: 6]
DOI:
10.1002/glia.22806
SCOPUS:
84928206519
The nucleolar protein Viriato/Nol12 is required for the growth and differentiation progression activities of the Dpp pathway during Drosophila eye development.
Developmental Biology377(1):154-165, 2013. [Journal: Article] [CI: 11] [IF: 3,6]
DOI:
10.1016/j.ydbio.2013.02.003
SCOPUS:
84876321493
Hoxd13 Contribution to the Evolution of Vertebrate Appendages.
Developmental Cell23(6):1219-1229, 2012. [Journal: Article] [CI: 50] [IF: 12,9]
DOI:
10.1016/j.devcel.2012.10.015
SCOPUS:
84870845601
CPEB1, a novel gene silenced in gastric cancer: A Drosophila approach.
Gut61(8):1115-1123, 2012. [Journal: Article] [CI: 26] [IF: 10,7]
DOI:
10.1136/gutjnl-2011-300427
SCOPUS:
84863719147
Genome-wide CTCF distribution in vertebrates defines equivalent sites that aid the identification of disease-associated genes.
Nature Structural and Molecular Biology18(6):708-714, 2011. [Journal: Article] [CI: 59] [IF: 12,7]
DOI:
10.1038/nsmb.2059
SCOPUS:
79958834622
The Drosophila Nol12 homologue viriato is a dMyc target that regulates nucleolar architecture and is required for dMyc-stimulated cell growth.
Development138(2):349-357, 2011. [Journal: Article] [CI: 12] [IF: 6,6]
DOI:
10.1242/dev.054411
SCOPUS:
78751553525
Evidence that mechanisms of fin development evolved in the midline of early vertebrates.
Nature442(7106):1033-1037, 2006. [Journal: Article] [CI: 127] [IF: 26,7]
DOI:
10.1038/nature04984
SCOPUS:
33748305741
E-cadherin missense mutations, associated with hereditary diffuse gastric cancer (HDGC) syndrome, display distinct invasive behaviors and genetic interactions with the Wnt and Notch pathways in Drosophila epithelia.
Human Molecular Genetics15(10):1704-1712, 2006. [Journal: Article] [CI: 22] [IF: 8,1]
DOI:
10.1093/hmg/ddl093
SCOPUS:
33745184835
Genomic regulation of Hox collinearity.
Developmental Cell10(1):8-9, 2006. [Journal: Short Survey] [CI: 3] [IF: 13,5]
DOI:
10.1016/j.devcel.2005.12.008
SCOPUS:
29744445744
A 3' cis-regulatory region controls wingless expression in the Drosophila eye and leg primordia.
Developmental Dynamics235(1):225-234, 2006. [Journal: Article] [CI: 21] [IF: 3,2]
DOI:
10.1002/dvdy.20606
SCOPUS:
33644990828