Expression Regulation in Cancer
ABOUT
The general goal of the Expression Regulation in Cancer Group is to disclose germline and somatic regulatory mechanisms and molecular circuitries, acting to increase gastric cancer susceptibility, and to confer advantageous features to tumour cells. This research contribution is expected to improve gastric cancer diagnosis and patients' management as well as molecular stratification, prognosis and targeted therapy of gastric cancer.
In particular, our research objectives are:
Identification of germline and somatic defects underlying familial aggregation of gastric cancer, using NGS, transgenic zebra fish and funding from the American Association "No Stomach for Cancer";
Identification of intra-tumor molecular landscapes and mediators of cellular crosstalk (exossomes and microvesicles) during gastric initiation and progression, through cell line models of Epithelial-Mesenchymal-Epithelial transition, patients' cohorts and FCT funding;
Identification of gastric cancer-specific molecular signatures with impact in patient survival and therapy, using NGS and patients' cohorts, and funding from Coimbra Genomics and BGI.
The team is multidisciplinary with strong background in oncobiology and genetics, and supported by technical expertise in molecular and cellular biology, NGS, bioinformatics and therapy response assessment. The group developed dynamic cancer cell line models, orthotopic xenograft mouse models, and has access to large gastric cancer cohorts (familial and sporadic), through long lasting collaborations with research groups, Consortia, Hospitals, and companies.
RESEARCH
The expression Regulation in Cancer Group focuses on molecular mechanisms and clinical implications related to familial and sporadic forms of gastric cancer, namely hereditary diffuse gastric cancer (HDGC). Carla Oliveira, the head of the group belongs to the International Gastric Cancer Linkage Consortium from its creation in 1999, and her team disclosed molecular and clinical aspects of worldwide series of families and sporadic gastric cancer cases, found novel germline CDH1 genetic defects, defined somatic events with impact for patient management and therapy, and reported an association between germline CDH1 mutations and developmental malformations. The group has also deeply characterized primary gastric cancers and metastases to disclose molecular causes of E- cadherin impairment and their impact of patient's prognosis and therapy. Major collaborators are: D Huntsman, CA; The International Gastric Cancer Linkage Consortium (IGCLC); F Roviello, Univ Sienna, IT; F Carneiro, Centro Hospitalar S. João Porto, PT; N Bonito from the Port. Ins. Oncol, IPO-Coimbra, PT; K Bedard from Univ. Halifax, CA; M Santos, Univ. Aveiro, PT; P Granja, INEB-Porto, PT; José Bessa, IBMC-Porto, PT.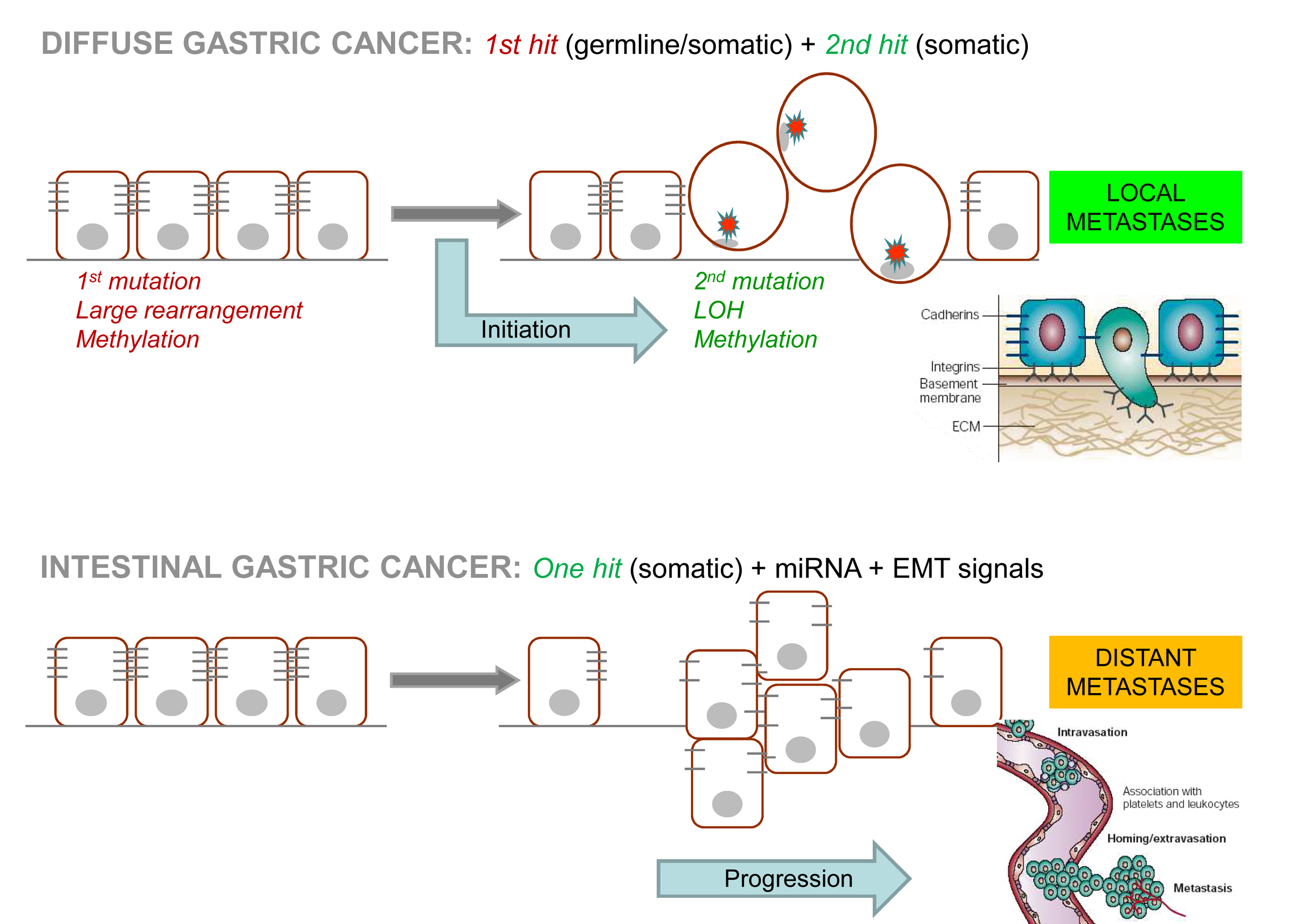 Ongoing Projects
Estimativas de risco ao longo da vida e modificadores genéticos em Cancro Gástrico Difuso Hereditário
Reference: PTDC/BTM-TEC/6706/2020
Proponent: Instituto de Investigação e Inovação em Saúde - Universidade do Porto
Sponsor: FCT - Fundação para a Ciência e a Tecnologia
From 29-MAR-21 to 28-MAR-24
Cancer Prevention vs Cancer Treatment: The Rare Tumour Risk Syndromes Battle
Reference: HORIZON-HLTH-2022-CARE-08-04-RIA - GA 101095483
Proponent: Instituto de Investigação e Inovação em Saúde - Universidade do Porto
Sponsor: CE - Comissão Europeia
From 01-JAN-23 to 31-DEC-25
A Fast Alternative to Soft Lithography for the Fabrication of Organ-on-a-Chip Elastomeric-Based Devices and Microactuators
Reference: NC3Rs UK - International 3Rs prize 2021 - D.Ferrei
Proponent: Instituto de Investigação e Inovação em Saúde - Universidade do Porto
Sponsor: NC3Rs
From 01-OCT-22 to 31-DEC-23
Solve the Unsolved - Rare Diseases
Proponent: University Tübingen
Sponsor: H2020
From 01-JAN-18 to 30-JUN-23
Disclosing the genesis of hereditary stomach cancer through organ-on-a-chip technology
Reference: 2022.02951.PTDC
Proponent: Instituto de Investigação e Inovação em Saúde - Universidade do Porto
Sponsor: FCT - Fundação para a Ciência e a Tecnologia
From 16-JAN-23 to 15-JUL-24