Neuroengineering and Computational Neuroscience
ABOUT
Neurons are Nature's solution to fast and reliable information processing, and many neuroscience challenges can only be tackled with biophysics, information theory, signal processing, and mathematical modeling.
We are a transdisciplinarity group focused on neuronal computation: we develop and use neuro-electronic interfaces to uncover and modulate the functional properties of neuronal circuits.
We use and develop in silico neuroscience tools (e.g. mathematical modeling, advanced data/image analysis and computer simulations), which we combine with in vitro/ex vivo electrophysiology using multi-electrode arrays (MEAs), to improve our understanding on how neurons encode, transmit, store and process information. We also use and develop neuroengineering approaches, namely neuro-electronic interfaces, that help us reveal, and repair, neuronal function. A long-term goal of the NCN group is the development of (implantable) microelectrodes systems capable of effective and long-term therapeutic action through electrophysiological modulation.
RESEARCH
In the field of computational neuroscience we have contributed with biophysically detailed models of neuronal dynamics that have helped to understand, namely, i) nociceptive information integration in the spinal cord, and ii) information encoding and storage in the hippocampus. We are also very active in the development of open-source scientific software providing solutions for, namely, i) neuronal 3D reconstruction and morphometric analysis, and ii) animal tracking and automatic classification in behavioral neuroscience.
In neuroengineering we have described how memristors, neuromorphic devices with synapse-like properties, can be used to recreate brain-like memory systems. In fruitful collaborations with IFIMUP and INESC-MN we have also contributed to the development of new neuro-electronic interfaces where instead of planar microelectrodes we use mushroom-shaped microelectrodes, leading to improved electrical couplings with neurons.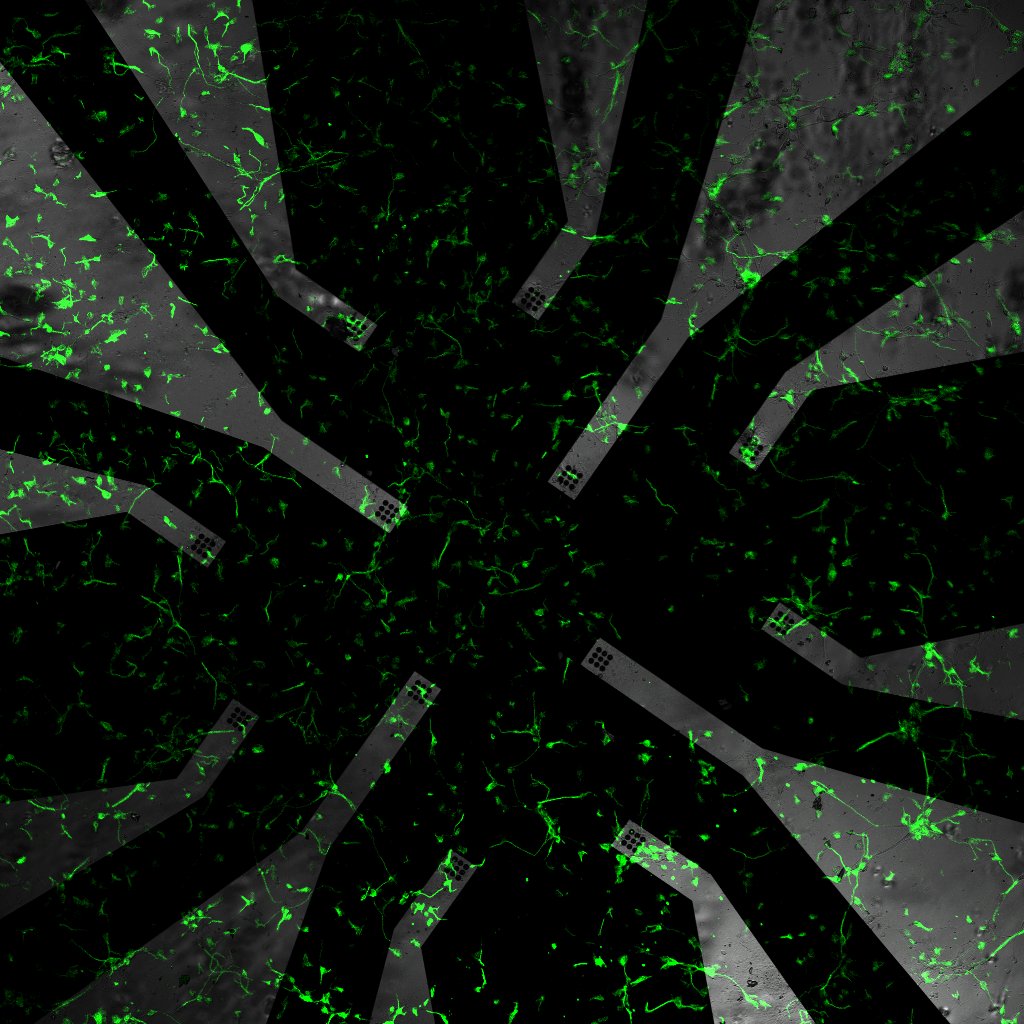 Selected Publications
Mateus J.C., Lopes C.D.F., Cerquido M., Leitão L., Leitão D., Cardoso S., Ventura J., Aguiar P.,
Improved in vitro electrophysiology using 3D-structured microelectrode arrays with a micro-mushrooms islets architecture capable of promoting topotaxis.
Journal of Neural Engineering16(3):, 2019. [Journal: Article] [CI: 3] [IF: 4,1]
DOI:
10.1088/1741-2552/ab0b86
SCOPUS:
85065810756
.
Journal of Neural Engineering
. 2019
Teixeira H., Dias C., Aguiar P., Ventura J.,
Gold-Mushroom Microelectrode Arrays and the Quest for Intracellular-Like Recordings: Perspectives and Outlooks.
Advanced Materials Technologies6(2):, 2021. [Journal: Review] [IF: 7.8 (*)]
DOI:
10.1002/admt.202000770
SCOPUS:
85097519751
.
Advanced Materials Technologies
. 2021
Heiney K., Mateus J.C., Lopes C.D.F., Neto E., Lamghari M., Aguiar P.,
µSpikeHunter: An advanced computational tool for the analysis of neuronal communication and action potential propagation in microfluidic platforms.
Scientific Reports9(1):, 2019. [Journal: Article] [CI: 1] [IF: 4]
DOI:
10.1038/s41598-019-42148-3
SCOPUS:
85064068131
.
Scientific Reports
. 2019
Aresta G., Araújo T., Kwok S., Chennamsetty S.S., Safwan M., Alex V., Marami B., Prastawa M., Chan M., Donovan M., Fernandez G., Zeineh J., Kohl M., Walz C., Ludwig F., Braunewell S., Baust M., Vu Q.D., To M.N.N., Kim E., Kwak J.T., Galal S., Sanchez-Freire V., Brancati N., Frucci M., Riccio D., Wang Y., Sun L., Ma K., Fang J., Kone I., Boulmane L., Campilho A., Eloy C., Polónia A., Aguiar P.,
BACH: Grand challenge on breast cancer histology images.
Medical Image Analysis56:122-139, 2019. [Journal: Article] [CI: 117] [IF: 11,1]
DOI:
10.1016/j.media.2019.05.010
SCOPUS:
85067343074
.
Medical Image Analysis
. 2019
Cerquido M., Proenca M.P., Dias C., Leitao D.C., Cardoso S., Freitas P.P., Aguiar P., Ventura J.,
Tailoring the cap's morphology of electrodeposited gold micro-mushrooms.
Applied Surface Science445:512-518, 2018. [Journal: Article] [CI: 4] [IF: 5,2]
DOI:
10.1016/j.apsusc.2018.03.158
SCOPUS:
85044588454
.
Applied Surface Science
. 2018
Gerós A., Magalhães A., Aguiar P.,
Improved 3D tracking and automated classification of rodents' behavioral activity using depth-sensing cameras.
Behavior Research Methods52(5):2156-2167, 2020. [Journal: Article] [CI: 4] [IF: 6.2]
DOI:
10.3758/s13428-020-01381-9
SCOPUS:
85083094268
.
Behavior Research Methods
. 2020
Mestre A.L.G., Cerquido M., Inácio P.M.C., Asgarifar S., Lourenço A.S., Cristiano M.L.S., Aguiar P., Medeiros M.C.R., Araújo I.M., Ventura J., Gomes H.L.,
Ultrasensitive gold micro-structured electrodes enabling the detection of extra-cellular long-lasting potentials in astrocytes populations.
Scientific Reports7(1):, 2017. [Journal: Article] [CI: 9] [IF: 4,1]
DOI:
10.1038/s41598-017-14697-y
SCOPUS:
85032462728
.
Scientific Reports
. 2017
Castro D., Nunes V., Lima J.T., Ferreira J.G., Aguiar P.,
Trackosome: a computational toolbox to study the spatiotemporal dynamics of centrosomes, nuclear envelope and cellular membrane.
Journal of Cell Science133(24):, 2020. [Journal: Article] [CI: 2] [IF: 5.3]
DOI:
10.1242/jcs.252254
SCOPUS:
85099992997
.
Journal of Cell Science
. 2020
Costa A.R., Sousa S.C., Pinto-Costa R., Mateus J.C., Lopes C.D.F., Costa A.C., Rosa D., Machado D., Pajuelo L., Wang X., Zhou F.Q., Pereira A.J., Sampaio P., Rubinstein B.Y., Pinto I.M., Lampe M., Aguiar P., Sousa M.M.,
The membrane periodic skeleton is an actomyosin network that regulates axonal diameter and conduction.
eLife9:, 2020. [Journal: Article] [CI: 12] [IF: 8.1]
DOI:
10.7554/eLife.55471
SCOPUS:
85082635132
.
eLife
. 2020
Neto E., Leitão L., Sousa D.M., Alves C.J., Alencastre I.S., Aguiar P., Lamghari M.,
Compartmentalized microfluidic platforms: The unrivaled breakthrough of in vitro tools for neurobiological research.
Journal of Neuroscience36(46):11573-11584, 2016. [Journal: Article] [CI: 50] [IF: 6]
DOI:
10.1523/JNEUROSCI.1748-16.2016
SCOPUS:
84996552043
.
Journal of Neuroscience
. 2016