BioEngineered Surfaces
ABOUT
The BioEngineered Surfaces (BeSurf) group focuses on nanotechnology approaches for surface modification of biomaterials to fight infection and improve hemocompatibility of medical devices.
We use self-assembled monolayers (SAMs) & biomedical polymers to incorporate molecules (antimicrobial peptides (AMP); fatty acid-like compounds; glycans and other polysaccharides; graphene-based materials) that will guide specific protein/cell binding and control bacterial adhesion and/or thrombus formation. Besides fundamental research, the group is also committed to transfer the knowledge created through patent applications in collaboration with industrial partners. For the development of these biomaterial surfaces, different approaches are being followed depending on the final medical application:
RESEARCH
Biomaterials to fight gastric infection
Helicobacter pylori is a Gram-negative bacterium that infects more than 50% of the worldwide population. It is the etiological agent of several gastro-duodenal diseases and responsible for 75% of the global gastric cancer burden. The group has been developing antibiotic-free engineered biomaterials for H. pylori gastric infection management. These strategies are based on orally administered micro/nanoparticles that, by being specific to H. pylori cells are able to kill them in situ or to capture and remove them from infected hosts, without affecting other bacteria from the gut microbiota. The efficacy of the different approaches is studied in vitro using H. pylori and gastric cell lines and in vivo using a H. pylori infected mice model.
Selected Publications: Seabra2018/ Seabra2017/Gonçalves2016;
Biomaterials-associated infection & thrombus formation
Biomaterials-associated infection is a major threat in all medical devices since, after surface colonization, pathogens can produce biofilm protecting them from the host immune system and available therapies. Moreover, thrombus formation is also a serious concern associated with blood contacting medical devices. The group has been developing biomaterials and coatings with antimicrobial properties to kill bacteria by contact or with anti-adhesive features to avoid bacterial adhesion and thrombus formation.
Antimicrobial Peptides (AMPs) are explored for the creation of anti-infective implant coatings for tissue repair, namely for orthopaedic applications and prevention/treatment of skin wound infections. Different strategies for AMPs grafting onto biomaterials are explored in order to maximize their bactericidal activity after surface binding.
Selected Publications: Barbosa2019/Costa2015/Monteiro2015
Anti-adhesive coatings are investigated using two main approaches namely i) albumin-binding coatings due to albumin "passivant" effect and ii) polysaccharides coatings based on extracellular polymer released by marine cyanobacteria.
Selected Publications: Felgueiras2017/Costa2017
Graphene-based materials (GBMs) are being used i) to provide antimicrobial properties to biomedical polymers; ii) to mechanically reinforce hydrogels and decellularized matrices that have suitable bio/hemocompatibility but lack mechanical resistance for use in biomedical applications; and iii) as platforms for conjugation with drugs for dermatological applications.
Selected Publications: Gomes2018/Henriques2018
*Group Publications: https://tinyurl.com/yxjx65bo
ACTIVE PROJECTS:
PYLORIBINDERS - Helicobacter pylori specific biomaterials for antibiotic-free treatment/diagnostic of gastric infection (PTDC/CTM-BIO/4043/2014). PI: Cristina Martins
AntINFECT- Bioengineered Advanced Therapies for Problematic Infected Wounds (POCI-01-0145-FEDER-031781). PI: Cristina Martins
AntiBioCoat - Anti-adhesive Biopolymer Coating (CaixaImpulse 2018). PI: Fabíola Costa
NewCat - New biomaterials to prevent infection associated with dialysis catheters (PTDC/CTM-BIO/4033/2014). PI: Inês Gonçalves
SoftStrong: Turning soft into strong for blood contact devices (POCI-01-0145-FEDER-032431). PI: Inês Gonçalves
NovaDerma: New platforms for dermatological phototherapy (POCI-01-0145-FEDER-031143). PI: Artur Pinto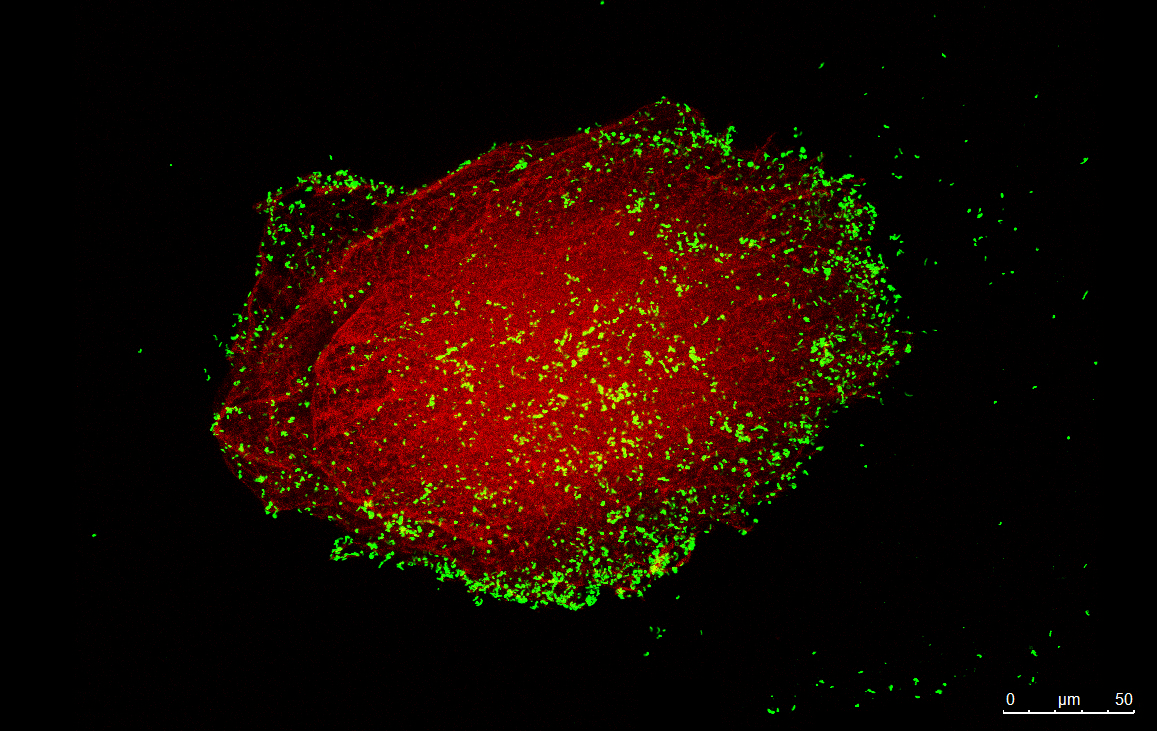 Selected Publications
Henriques P.C., Borges I., Pinto A.M., Magalhães F.D., Gonçalves I.C.,
Fabrication and antimicrobial performance of surfaces integrating graphene-based materials.
Carbon132:709-732, 2018. [Journal: Review] [CI: 29] [IF: 7,5]
DOI:
10.1016/j.carbon.2018.02.027
SCOPUS:
85043307316
. .
Seabra C.L., Nunes C., Brás M., Gomez-Lazaro M., Reis C.A., Gonçalves I.C., Reis S., Martins M.C.L.,
Lipid nanoparticles to counteract gastric infection without affecting gut microbiota.
European Journal of Pharmaceutics and Biopharmaceutics127:378-386, 2018. [Journal: Article] [CI: 5] [IF: 4,7]
DOI:
10.1016/j.ejpb.2018.02.030
SCOPUS:
85044023662
. .
Seabra C.L., Nunes C., Gomez-Lazaro M., Correia M., Machado J.C., Gonçalves I.C., Reis C.A., Reis S., Martins M.C.L.,
Docosahexaenoic acid loaded lipid nanoparticles with bactericidal activity against Helicobacter pylori.
International Journal of Pharmaceutics519(1-2):128-137, 2017. [Journal: Article] [CI: 17] [IF: 3,9]
DOI:
10.1016/j.ijpharm.2017.01.014
SCOPUS:
85010199517
. .
Costa F., Sousa D.M., Parreira P., Lamghari M., Gomes P., Martins M.C.L.,
N-acetylcysteine-functionalized coating avoids bacterial adhesion and biofilm formation.
Scientific Reports7(1):, 2017. [Journal: Article] [CI: 23] [IF: 4,1]
DOI:
10.1038/s41598-017-17310-4
SCOPUS:
85037721926
. .
Felgueiras H.P., Wang L.M., Ren K.F., Querido M.M., Jin Q., Barbosa M.A., Ji J., Martins M.C.L.,
Octadecyl Chains Immobilized onto Hyaluronic Acid Coatings by Thiol-ene "Click Chemistry" Increase the Surface Antimicrobial Properties and Prevent Platelet Adhesion and Activation to Polyurethane.
ACS Applied Materials and Interfaces9(9):7979-7989, 2017. [Journal: Article] [CI: 24] [IF: 8,1]
DOI:
10.1021/acsami.6b16415
SCOPUS:
85014824553
. .
Barbosa M., Vale N., Costa F.M.T.A., Martins M.C.L., Gomes P.,
Tethering antimicrobial peptides onto chitosan: Optimization of azide-alkyne "click" reaction conditions.
Carbohydrate Polymers165:384-393, 2017. [Journal: Article] [CI: 22] [IF: 5,2]
DOI:
10.1016/j.carbpol.2017.02.050
SCOPUS:
85013929503
. .
Gonçalves I.C., Magalhães A., Costa A.M.S., Oliveira J.R., Henriques P.C., Gomes P., Reis C.A., Martins M.C.L.,
Bacteria-targeted biomaterials: Glycan-coated microspheres to bind Helicobacter pylori.
Acta Biomaterialia33:40-50, 2016. [Journal: Article] [CI: 9] [IF: 6,3]
DOI:
10.1016/j.actbio.2016.01.029
SCOPUS:
84959468144
. .
Costa F.M.T.A., Maia S.R., Gomes P.A.C., Martins M.C.L.,
Dhvar5 antimicrobial peptide (AMP) chemoselective covalent immobilization results on higher antiadherence effect than simple physical adsorption.
Biomaterials52(1):531-538, 2015. [Journal: Article] [CI: 42] [IF: 8,4]
DOI:
10.1016/j.biomaterials.2015.02.049
SCOPUS:
84932632783
. .
Monteiro C., Pinheiro M., Fernandes M., Maia S., Seabra C.L., Ferreira-Da-Silva F., Reis S., Gomes P., Martins M.C.L.,
A 17-mer Membrane-Active MSI-78 Derivative with Improved Selectivity toward Bacterial Cells.
Molecular Pharmaceutics12(8):2904-2911, 2015. [Journal: Article] [CI: 14] [IF: 4,3]
DOI:
10.1021/acs.molpharmaceut.5b00113
SCOPUS:
84938303316
. .
Costa F., Carvalho I.F., Montelaro R.C., Gomes P., Martins M.C.L.,
Covalent immobilization of antimicrobial peptides (AMPs) onto biomaterial surfaces.
Acta Biomaterialia7(4):1431-1440, 2011. [Journal: Review] [CI: 370] [IF: 4,9]
DOI:
10.1016/j.actbio.2010.11.005
SCOPUS:
79952187401
. .